Trips Into History wishes to take you on a tour to the several excellent telephone museums spread around the country with their large collections of antique telephones and telephone equipment.
In this day of instant messaging and mobile phones, antique telephones take us back to the period when communication in the U.S. and the world was in it's infancy.
Walk through a museum with impressive collections of old telephone equipment and you're transported back in time. Take a look at some of the earliest experimental equipment and you might find it difficult to recognize it as a communication tool.
There was a time when simple telephone communications represented cutting edge technology. After all, some in 1910 were still arguing that the horse was more reliable than the automobile. Arguably, communication technology continues to move forward with our IPhones and Androids.
Below are interesting historical examples of what people used to communicate with many, many years ago.
Magneto Wall Pay Station
This telephone apparatus dates back to the year 1900 and was manufactured by Stromberg Carlson-Gray.
Magneto meant that the power to talk was supplied by two dry cell batteries. Customers created signaling power by turning a hand crank on the telephone box. The operators were alerted to a call when a metal hook holding a drop in place retracted and released the drop. The buzzing sound signaled someone wanted to make a call. The difference with using a common battery was that all power was generated from the central telephone office including power for the customer's phone. This phone was used for coin telephone communications.

Gallows Frame Telephone
This particular telephone was designed and manufactured by Alexander Graham Bell and is thought to be one of only two left in existence. It is on display at the Fort Concho Museum in San Angelo Texas.
The Gallows Frame Telephone dates back to 1876, the same year as Custer's Battle of the Little Bighorn in Montana.
This apparatus takes you back to the invention and early development of the telephone. This device was not good enough to distinguish intelligible speech, but it was a significant breakthrough in the development of the telephone.
Bell was able to send not just a single tone beep, but actual sounds between one room and another. This was accomplished using an electromagnetic signal which was picked up by a metal reed. The metal reed vibrated against a cloth diaphragm. The unit was considered  experimental.
The other Gallows Frame Telephone is one of the exhibits at the Science Museum's new gallery called Information Age in London, England.
See our Trips Into History articles on the links below. Articles also describe fun venues to visit regarding both subjects.

Crossing the Atlantic With Marconi's Wireless
Laying of the Trans-Atlantic Cable
Bell's Centennial Telephone 1876
This type early telephone was exhibited at the 1876 Centennial Exposition in Philadelphia by Alexander Graham Bell.  "My word! It talks!" exclaimed Emperor Dom Pedro of Brazil on June 25, 1876, when he listened to the receiver of Bell's telephone at the Centennial Exposition. The voice he heard was coming from 100 yards away and this type of publicity helped make Alexander Graham Bell's telephone the talk of the international scientific community. Prior to all this publicity generated by Emperor Dom Pedro it was said that the Centennial judges were pretty much ignoring Bell's telephone.
Another interesting fact is that the first U.S. President to have one of Bell's telephones in the White House was Rutherford B. Hayes. The phone was installed in 1878 and Hayes' first call was made to Bell. It was reported that Hayes' first words were said to have been, "Please speak more slowly."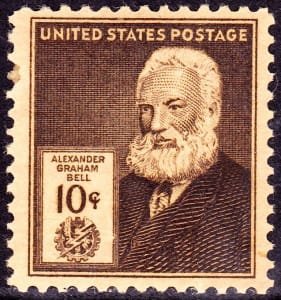 An interesting venue to see Bell's Centennial Telephone and other rare antique models is the JKL Museum of Telephony. John K. La Rue's Museum of Telephony, part of the American Museum of Telephony, is dedicated to preserving telephone history. The museum contains telephones and related items from the dawn of telephony (late 1800s) to the present day. One of the telephone museum's goals is to have working telephones from all eras.
This museum is located near San Andreas, California. For more information and directions see website…www.jklmuseum.com
(Article copyright Trips Into History. Photos of Gallows Frame and Magneto Wall Pay Station from Trips Into History Collection. Bell's Centennial Telephone and postage stamp image from the public domain)