Some may call it The Daffodil Capital of Texas, but the city of Round Rock has quite a noteworthy historic past and it's a great place to visit during your Texas travels. Attractions in Round Rock Texas include plenty of historic sites and buildings, excellent dining and unique shops.
Round Rock and Sam Bass
Look back at the history of Round Rock Texas and the name Sam Bass will come up. There is much more to the history of Round Rock aside from the infamous train and stagecoach robber Sam Bass and his gang but it's a theme that has stuck around for nearly 140 years.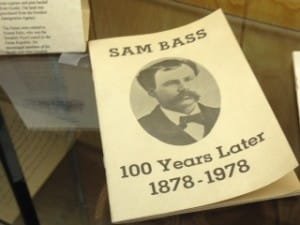 The legend left behind about Sam Bass is somewhat larger than his real life actions. There's even a major street in Round Rock Texas that bears his name. Bass' entire life lasted but twenty-seven years however during that relatively short time he was involved in plenty of criminal activity.
Like most legends from the old west there are a few versions of Bass' exploits. Following is the most common version.
After prospecting in the Black Hills of the Dakota Territory with two other men and losing all their money, Bass decided to replenish their cash by robbing stagecoaches and they were given the name the "Black Hills Bandits". Stagecoach robbing then turned into train robberies which typically paid better. The gangs big payoff occurred in Big Springs, Nebraska on September 18, 1877 when they robbed a Union Pacific express train of $60,000 in $20 gold pieces being transported east from the San Francisco Mint.
The gang, then being chased by lawmen and army soldiers, had to split up. Most of the robbers were killed or captured, one fled to Canada with his share of coins and Bass and another fled south. One year later Bass held up a train in Allen, Texas north of Dallas.
The Texas Rangers made sure that the fugitive Sam Bass met his end in Round Rock when he was gunned down on July 19th, 1878. bass was reportedly in Round Rock with some of his gang planning a bank robbery. He was recognized and lawmen approached. After being confronted in a store the Williamson County Deputy Sheriff was shot and killed by the four gang members. A Travis County Deputy Sheriff was outside the store and entered and subsequently shot Sam Bass. The bandits attempted to flee from the alley and were shot at and hit by Texas Rangers who had heard the original gunshots. Not long afterwards Bass was found mortally wounded outside of ton and was brought back to Round Rock where he died of his wounds.
This particular shooting actually took to being called the "Sam Bass Shootout" and you can view it's reenactment every July 4th at Round Rock's Old Settlers Park during their annual Frontier Days' event.
Round Rock and the Palm House
Located in the old downtown area is the Palm House, one of the many historic attractions in Round Rock. The house was moved from Palm Valley to it's new location in Round Rock in 1976. In 1979 the Palm House received it's State Historical Marker. The Palm House is located at 212 East Main Street next to the library.
Today, the Palm House serves as both a museum and the offices of the Round Rock Convention and Visitors Bureau.
The Palm House was built in 1873 by Andrew J. Palm who moved to a valley east of Round Rock with his mother and siblings in 1853. A.J. Palm and his wife Caroline Nelson Palm raised eight children in this house. An interesting side note was that the Palm family was related to Svante Palm who served as the Swedish Vice-Council to the Republic of Texas. Svante Palm encouraged members of his family to relocate to this area of Texas.
You can walk through the house and visit the rooms, filled with authentic period furniture. When you visit the Palm House today you will see early settlers furnishings as well as interesting items donated from local residents. The house has authentic furnishings, an elegant parlor and Swedish kitchen.
You may enjoy the Trips Into History articles on the links below…
Visit Luling Texas / Railroads, Oil and Watermelons

Visit the National Ranching Heritage Center
Harvey House and Santa Fe Depot / Brownwood Texas
Visit Round Rock Texas
Round Rock Texas is located nineteen miles north of Austin. Old Town Round Rock is located just east of Interstate 35.
The area of Round Rock and Austin offers many historic sites to visit including the historic buildings in Old Town including the Palm House Museum.
You'll also want to visit the  area of the first settlement which was named Brushy just across on the west side of Interstate 35 along Brushy Creek. By request of the U.S. Post Office the name had to be changed because there was another town in Texas named Brushy. The settlement then took the name Round Rock in recognition of the large rock in the middle of Brushy Creek.
(Article and photos copyright 2014 Trips Into History)