Annie Oakley no doubt gained her shooting ability while hunting as a child. Some believe her father may have introduced her to firearms at a very early age.
One story is that Annie's first shot taken at a squirrel with her father's old Kentucky rifle. This probably would have been before even eight years of age. Shooting contests were quite popular when Annie was young and she entered many of them. The story there is that she won so many of these contests that many of the events began to bar her from entering. It was at one these popular events that Oakley met her future husband, Frank Butler.
Annie Oakley's Firearms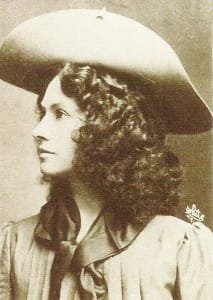 So what were the guns that Annie Oakley liked?
Many people who try to find out what models of guns Oakley employed during her long career find out that the list was quite long. Annie Oakley, the famous sharpshooter and star performer in Buffalo Bill Cody's Wild West, used a wide variety of firearms during her life.
In fact, years after her life, one such gun was sold for a mere five dollars by a relative in 1940. The gun sold was a Remington Beals. The Remington Beals was a very rare rifle. Supposedly only 800 hundred were manufactured during the two year period 1866-1868. Remington actually manufactured a few different models of the Beals, such as the Navy Beals and the Army Beals, however the model that Annie Oakley was known to use was produced in this small number. The rifle was a .32 caliber, single shot gun. This particular Remington model was used by Annie Oakley often in Cody's Wild West.
As I mentioned above, if you're trying to figure out what that "special rifle" was that Oakley used, it's going to be difficult.
In addition to the Remington Beals model, Oakley used a large assortment of both rifles and pistols. These include both Smith and Wesson and Colt revolvers, a large assortment of shotguns including the Hibbard double barrel and several .22 caliber rifles.
As a side note, during her long career with the Wild West, one of Oakley's more popular shooting demonstrations while performing with Cody's Wild West was hitting a dime tossed ninety feet away. She generally used a .22 rifle for this one. Often she reportedly used a Marlin lever action .22 caliber rifle similar to the close-up photo below right. This photo is courtesy of www.adamsguns.com. In regards to shotguns, there's a story that circulated that Annie was having trouble using the shotgun and supposedly was fitted with a better model in England. It is known that in addition to the Hibbard shotgun, Annie also at one time tried Lancaster and Francotte models.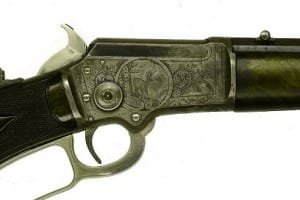 Oakley was also known to give out some of her guns as souvenirs.
Whether it was a pistol, rifle, or shotgun, the legendary Annie Oakley was masterful with them all. Some of these guns have made it back over the years to the National Firearms Museum in Washington D.C. for public display. The Garst Museum in Greenville Ohio which features the Annie Oakley Center also has some of her authentic guns on display.
My understanding is that an Annie Oakley gun is also on display at the Buffalo Bill Historical Center in Cody Wyoming.
Annie Oakley purchased a Model 3 Smith and Wesson handgun in 1888. This would have been while she was touring with Buffalo Bill. The Smith and Wesson design pioneered the use of sealed cartridges for quick loading and rapid firing. The Smith and Wesson Model 3 shown in the photo below is courtesy of www.adamsguns.com. There are also flyers that pop up every so often that point to Annie Oakley preferring this gun or that. Colt ran advertisements around the year 1913 regarding Oakley preferring that firearm during her daily performances. Although, by 1913 Annie had retired from the Wild West and was putting on demonstrations sporadically.
Below are links to our Trips Into History article regarding Samuel Colt, his repeating pistol invention and a family tragedy involving his brother. Also the article, The Woman Called Calamity Jane…
Samuel Colt, His Personal Successes and Trials
The Woman Called Calamity Jane
Another related and very interesting article is the story of Frank Butler and Annie Oakley, the sharpshooting duo. On our Western Trips site we also have an interesting article with photos about the 1800's Frontier Firearms.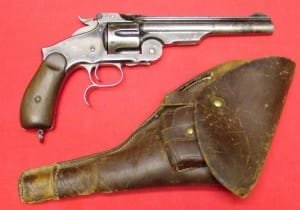 Annie Oakley honed here sharpshooting skills at an early age. Annie was born in 1860 and lived in poverty after her father passed away.
Annie actually began hunting and shooting at the age of eight. It was necessary in order to  support her siblings and her widowed mother.
The game she obtained from hunting around Greenville Ohio allowed her to bring in money by selling it to both restaurants and local townspeople. The story is that the proceeds from Annie's hunting allowed her mother to pay off the mortgage on the farm. This all happened when Oakley was a mere fifteen years old.
Annie was quoted in a publication of hers "Powders I Have Used" as stating, " When I first commenced shooting in the field in the Northern part of Ohio my gun was a single barrel muzzle loader, and as well as I can remember was a 16 bore". She further states in " Powders I Have Used" regarding her first guns, "My first real gun was a breech loading, hammer, 16-gauge made by Parker Brothers. I was proud of that gun. One hundred brass shells came with it. These I loaded with DuPont black powder, and continued to do so after I joined the Wild West Show, always using wads two sizes larger, so that the shot would not loosen in the second barrel".
Concerning the various powders Annie used, she states that the first smokeless powder was called "Ditmar". She then tested another from England which was named "Schultz". In fact, while the Wild West was touring England, Annie's husband, Frank Butler, went to the Schultz factory to learn more about using it. Annie Oakley was known however to try just about any new powder that came to market including a French powder when performing there. From my research it appears that the American Schultz powder manufactured by DuPont in the U.S. may have been Annie's favorite.
Annie Oakley used many different firearms and powders during her career. There is not one firearm that Oakley used exclusively. It appears that she actually used or at least tried out almost every model gun manufactured. I'm certain she had favorites but with her sharpshooting skills she probably was a sure shot with just about any.
(Photos and images from the public domain)