The Land of Today's La Jolla Dates Way back
What today is a beautiful tourist destination was at one time home to Native Americans. Artifacts found in and around La Jolla, California tell us that Native Americans settled along the Pacific shoreline nearly 10,000 years ago. Archaeologists have found stone utensils and other Indian artifacts for many years.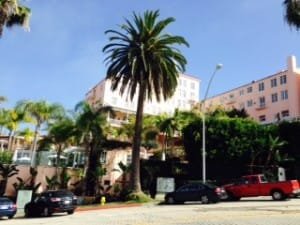 What happened to the native Americans who called this area home is an unanswered question. Did they migrate nearby? Did they move further south perhaps into Mexico? Answers to these questions still remain a mystery.
La Jolla Becomes Part of San Diego
The area around La Jolla was made part of San Diego in 1850. This would have been about 80 years after Father Junipero Serra built his mission in San Diego which was the first Spanish mission built in California, then called Alta California.  At the time San Diego took over La Jolla there were no permanent settlers in this section of land. It wasn't until 19 years later  when two brothers, Daniel and Samuel Sizer, each bought a plot here. The plots sold were 80 acres in size and cost $1.25 per acre. This was quite a long time ago but regardless who would have imagined that an acre today in La Jolla would be priced in the millions?
Railroads Mean Growth
The railroad made it's way to La Jolla, California in the 1880's. This represented a milestone for La Jolla. Whenever the railroad laid tracks to a town the result was growth and typically large growth. The railroad was the catalyst for aggressive development including that of sea side resorts that would lure travelers from San Diego and inland communities. As an example, La Jolla Park Hotel opened its doors in 1893 and cottage-style homes were built along Prospect Street and Girard Avenue.
In 1900 La Jolla, California counted about 350 permanent residents. For the next twenty years La Jolla solidified it's tourism appeal and tourism became it's number one economic driver and remains so today.
La Jolla became known as an artist colony during this early 20th century period. The community was also fortunate to have newspaper heiress Ellen Browning Scripps settle there. Scripps used her wealth to help further La Jolla's cultural base. In La Jolla, San Diego proper and in parts of southern California in general, her name is on numerous landmarks and institutions. One such well known institution is the Scripps Institute of Oceanography and Ellen Browning Scripps Park.
Today's La Jolla Attractions
Many refer to La Jolla as the jewel of San Diego. This is probably a pretty accurate description. La Jolla rests atop the bluffs that overlook the Pacific Ocean. This world famous tourist destination and jewel of San Diego has attracted millions over the years, and continues to do so to this very day.
What to expect with La Jolla is a small town feel, some of the finest ocean and coastal mountain views anywhere in southern California and an easy to access coastline. Put these all together and you have one magnificent attraction.
Beaches, Restaurants and Shopping / Something For Everyone
The three main areas of interest for La Jolla visitors is the beautiful beach, the variety of unique restaurants, and the top notch shopping. Home to some of the best coastline in southern California, La Jolla offers beach goers the opportunity to play, relax, and just enjoy the sun on some of the finest beaches that even rival those found in Hawaii for their seclusion and serenity.
From the long white sand of La Jolla Shores to the quiet and relaxing beach off Marine Street, you'll have plenty of space to find your very own piece of southern California paradise.
La Jolla restaurants are world class and boast of having some of the finest chefs and up coming chefs in the U.S. Because La Jolla enjoys a year round growing season, these chefs have easy access to some of the finest food products found anywhere and that translates to some of the best meals you'll ever enjoy.
You may enjoy these additional San Diego articles from our Western Trips website…
Coronado Island and the Historic Hotel del Coronado
The Oldest Building in San Diego Located in Old Town
For those who want to check out the shopping, many say that La Jolla offers some of the most unique shopping found anywhere. It's been said that La Jolla shopping is the choice of celebrities and bargain-hunters alike. From the world's most luxurious brands to everyday values.
La Jolla is a community to visit for a vacation, a great weekend getaway or if need be, just for a fun and relaxing day.  If you have to pick a season in an area that has four excellent seasons, summer is probably the best time to visit, as the beaches there are truly beautiful. Looking for a trip destination out of the ordinary and one with great photo opportunities, you may want to consider La Jolla, California. For more details of dining choices and shopping see website…http://www.lajollabythesea.com/
(Article and photos copyright 2015 Trips Into History)