You see the signs on the Texas Interstates advertising Natural Bridge Caverns. Actually I've seen them for years and never explored there until recently. I will have to say I was pleasantly surprised. I should have visited there sooner. It was an amazing visit. After driving to San Antonio and snapping pictures of the now urbanized Alamo I made a short trip north to Natural Bridge Caverns.
The Caverns in the Texas Hill Country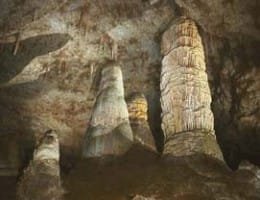 The caverns are located in the beautiful Texas hill country about 15 miles north of San Antonio. By their very nature the caverns are underground and when you drive to the main building you really don't have any idea where the caverns are. The tours are led by a well informed guide. What you end up doing is walking on a passageway that takes you 180 feet below the surface. That's almost 18 floors underground. Passageways have railings and the walk is not difficult at all. The photo of stalagmites above are courtesy of the National Park Service.
What you will see are huge caverns or you could call them underground rooms that in some cases are up to 300 feet long and ceilings of perhaps 40 to 50 feet. They are filled with stalagmites and stalagtites that are of all sizes and colors. Many are back lit which gives them a dramatic effect.
If you have never toured a cavern before, you will truly be amazed that something as large and beautiful could be 180 feet below the Texas hill country. When you visit these caverns you really feel that you're seeing one of the unique wonders of the world. People have been mining for years. Digging deep holes in the earth is nothing new. When you look inside a man made coal mine you might not be at awe. The same applies to a gold or silver mine.
When you see the natural beauty of colorful underground caverns with their stalagmites and stalactites you realize that there's a whole beautiful world beneath the often hectic surface of 21st century civilization.
The environment underground remains constant. Temperatures stay at about 70 degrees during all seasons.
Humans for centuries upon centuries have used caverns for protection against the bitter cold of winter. Underground caverns have and are still being used for storage by governments. Caves and caverns are a product of geologic processes that involve rainwater, chemicals and acids. Rainwater seeps through faults and cracks in the rock and over millions of years they can form underwater rivers and or lakes. Many of the largest caves are formed in limestone. There are primary caves which mean they were formed at the same time as the rocks were. Lava caves were formed by lava flows and there are sea caves which are found along the world's coasts. There are also fracture caves and glacier caves.
As you can see there are many geologic processes that result in underground caverns. It's absolutely amazing what our earth's elements and geology can create.
Pictures are allowed at Natural Bridge Caverns giving you a great photo op. The tour I was on lasted about 80-90 minutes and it was well worth it. I would recommend a visit there anytime you might be in the San Antonio or AustinTexas area. It makes a fun family weekend trip and it's quite educational and historic as well. With fuel prices what they are, I think most people want to keep their vacations within a budget. I believe Natural Bridge Caverns fits any vacation budget fairly well.
Also, see our Trips Into History articles on The Alamo in San Antonio and a Tour of the Pioneer Museum in the Texas Hill Country town of Fredericksburg.
Other Caverns to Explore in the Western U.S.
If your road trip takes you into southern New Mexico be sure to add Carlsbad Caverns to your trip planner. Carlsbad Caverns National Park is located just twenty miles southwest of Carlsbad New Mexico. This National Park has two historic districts on the National Register of Historic Places—the Cavern Historic District and the Rattlesnake Springs Historic District.
In Arizona you'll want to check out Kartchner Caverns State Park. This "live" cave, discovered in 1974, features a wide variety of unique minerals and formations. Events and cave tours are offered year round. The guided tour lasts about 1 1/2 hours. Kartchner Caverns is located nine miles south of Benson Arizona on Highway 90.
In California there is California Cavern State Historic Landmark which has had visitors since 1850. This makes this cavern very special. The cave was discovered by a Captain Joseph Taylor. Taylor was target practicing and noticed a breeze that appeared to emanate from the rocks. When he investigated just where this breeze was coming from he discovered a cave entrance. He named this cave Mammoth Cave. He shortly thereafter opened the cave for public viewing. The cave's early visitors included people such as John Muir and Mark Twain. California Cavern State Historic Landmark is located at 9565 Cave City Road, Mountain Ranch, CA. Mountain Ranch is located about 80 miles southeast of Sacramento California in the Sierra Nevada foothills. A visit to this site is a great companion trip while visiting the California gold country.
In Oregon check out Oregon Caves National Monument. This cavern is located deep inside the Siskiyou Mountains. The site is located just north of the California / Oregon border in Cave Junction Oregon. This is about a 147 mile drive due west of Klamath Falls Oregon toward the Pacific coast. It's an excellent stop to add to your trip planner while traveling along the scenic Pacific coast on US Hwy 101.
(Unless otherwise noted, photos are in the public domain. Creative Commons 3.0)