What are the energy vortexes found in Sedona Arizona? Can they really be explained? Will I feel the energy?  Our suggestion from Trips Into History is to visit this absolutely beautiful part of Arizona and experience the Sedona vortexes first hand.
Sedona's Lure
There are many reasons to visit Sedona Arizona and one of the best has to be the spectacular and stunning red rock scenery. Recreation attractions in Sedona include plenty of excellent hiking trails, biking trails and off road jeep tours either on your own or with one of the jeep tour companies.
Sedona is all about tourism and you'll find an excellent selection of unique shops, including crystal shops and restaurants, as well as fine lodging and resorts. The city is also a cultural center for the arts featuring over forty galleries.Sedona also offers more than 220 miles of dedicated trails for mountain biking and over 300 miles in total for hiking, biking and equestrian pursuits.
There's something for everyone in Sedona including nightly UFO tours in the nearby desert and of course tours of the world renown vortexes which draw millions of people annually from around the globe.
Sedona's location in Arizona is also advantageous for tourists being about a two hour drive north to the Grand Canyon, a forty-five minute drive north to historic Flagstaff and about a two hour drive south to Phoenix and Scottsdale.
The Sedona Vortexes
In short, a vortex is an area of concentrated energy to which seekers of enlightenment are drawn. These are also referred to as energy vortices. Another description would be a swirling concentration of energy emanating from the earth. Yet another description would be a formation where visitors have witnesssed a feeling of inspiration from a beneficial source of energy.
Native Americans of this part of Arizona, Hopis, Navajo and Yavapai, were well aware of the special properties of these mystical sites for generations. The term "vortex" as we know them in Sedona Arizona was actually created by a local Sedona medium by the name of Page Bryant during the early 1980's. Bryant called Sedona the "heart chakra of the planet".
It's very true that Sedona vortexes affect different people in different ways. Some may notice the power of the vortex and others may not.
Types of Vortexes in Sedona
The Sedona tourism industry has been in high gear for just a matter of decades whereas, as mentioned above, Native American knew these sites as sacred places for generations. The three recognized forms of Sedona vortexes are the balanced, electrical and magnetic. The balanced vortex is a combination of both electrical and magnetic. A magnetic vortex is of a feminine characteristic and the electrical vortex is of a masculine characteristic.
Where Are The Sedona Vortexes?

Vortex attractions in Sedona include four well known sites. These are found at the Airport, Bell Rock, Boynton Canyon and Cathedral Rock.
The Airport Vortex is located high up in the area of the Sedona Airport. This particular vortex is considered a balanced vortex. The site has ample parking and the views you'll have from this location are second to none. Sunset viewing is stunning from this site. The vortex is located behind the saddle in the rocks near Airport Road. Getting there requires just a short drive up Airport Road, off of Hwy 89 A about one mile west of Uptown Sedona.  on a paved road. This is the closest vortex to the town of Sedona.
The Bell Rock Vortex is considered a strong energy field located just north of Hwy 179 between  Sedona and the village of Oak Creek about three miles south of Uptown Sedona. The youngest rock found in this formation is said to be 272 million years old. The vortex is found anywhere on Bell Rock.
See the Trips Into History articles on the links elow…
Could Be the Best Hiking Trail in Sedona
Visiting Arizona / The Roots of the Long Apache War
Visit Spectacular Bryce Canyon, Utah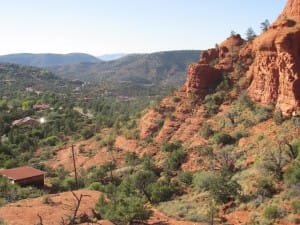 The Boynton Canyon Vortex is located on a short spur off the Boynton Vista Trail. In fact you can take the spur directly to the vortex. The main trail is considered easy to moderate and is about 2.5 miles in length. The vortex site itself is located between the Kachina Woman and Warrior formations. To reach the trail
and vortex you'll take Dry Creek Road north from Hwy 89 A about three miles west of Uptown Sedona.
The Cathedral Rock Vortex is said to have a relaxing energy. Cathedral Rock is probably the most photographed formation in Sedona. To reach the vortex points on Cathedral Rock drive south on Hwy 179 about three miles from Uptown Sedona (near the Bell Rock location) and turn right on Back O' Beyond Road. Drive 0.6 miles to the parking lot on the left and the trail head. This is a steep climb with a 600 foot elevation change and should be taken with caution. As with all hiking be certain to wear hiking shoes and take along sufficient water.
Sedona Arizona is known as a gem of nature and an excellent travel destination during all four seasons of the year. As you can see from what's written above, Sedona attractions are plentiful.
Sedona Arizona is one of the most unique and popular tourist destinations in all of the U.S. and truly has something for everyone. If you're visiting Arizona you'll be glad you added this one to your travel planner.
(Article and photos copyright 2014 Trips Into History)