When it come to major tourist regions in the U.S., the Rocky Mountain region is at the top of the list. Visitors to the Rocky Mountains enjoy hiking, skiing, snowboarding, mountain biking, camping, fishing, rock climbing and much more. Add to this some of the most historic towns in the western U.S.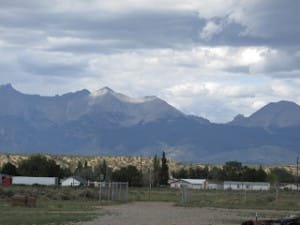 A 3,000 Mile Long Mountain Range

The Rocky Mountains stretch from old Mexico north through the United States and into Canada. The total length of this tremendous mountain range is over 3000 miles. The states that are part of this mountain chain include parts of California, Colorado, Idaho, Montana, & Wyoming. Stories of early adventurers like Lewis & Clark, John Fremont and Kit Carson exploring the Rocky Mountains are legendary.
The Rockies are home to many scenic campgrounds, historic sites, ghost towns, gold prospecting sites, and of course national parks. Some of the historic towns you'll want to put on your trip planner include:
Cripple Creek, Durango, Cortez and Silverton, Alamosa, Colorado.
Taos, Santa Fe and Las Vegas, New Mexico
Laramie, Cheyenne, South Pass City, Wyoming
Virginia City, Bannack Ghost Town, Gold Creek, Bozeman, Missoula, Custer Battlefield, Montana
The National Parks of the Rockies
National parks and monuments provide you with the opportunity to explore nature at its best. From the diversity of beautiful wildlife to the endless possibilities in their miles of trails. There are several world famous national parks in the Rockies, including Yellowstone, Rocky Mountain, Grand Teton, & Glacier.
Rocky Mountain National Park
Without a doubt, Rocky Mountain National Park is one of the best places to head for a vacation in Colorado. Rocky Mountain National Park has 355 miles of hiking trails. They range from flat lakeside strolls to steep mountain peak climbs.The road system of Rocky Mountain National Park offers visitors access to diverse ecosystems characterizing the higher regions of the central Rocky Mountains. The roads take visitors through lowland meadows and aspen groves, along swift-flowing rivers and up through sub-alpine forests to more than 12,000 feet in elevation.
Rocky Mountain National Park covers 415 square miles in north central Colorado. The east gate is at Estes Park and the western gateway is at Grand Lake.
Great Sand Dunes National Park
Great Sand Dunes National Park & Preserve is located 35 miles northeast of Alamosa, Colorado. This is in the southern part of the state relatively close to the border with New Mexico.
This geologic wonderland contains about 39 square miles of massive sand dunes, some 750 feet high. The Great Sand Dunes National Park also includes alpine lakes and tundra, six mountain peaks in the Sangre de Cristo Mountain Range over 13,000′ in elevation as seen in the photo above right. Among the trees you will see are spruce pine aspen and cottonwoods.
Glacier National Park
Glacier National Park  is located in the far northwest corner of Montana on the Canadian border. The Great Northern Railway, popularly referred to as "The Empire Builder",  played a major role in the parks awareness to the general public having built it's rail line from St. Paul, MN to Seattle, WA along it's southern border.

In 1932 Canada and the United States declared Waterton Lakes National Park (founded in 1895) and neighboring Glacier National Park (founded in 1910) the world's first International Peace Park. While administered separately, the park's two sections cooperate in wildlife management, scientific research, and some visitor services.
See these additional Trips Into History articles on the links below…
What It Was Like To Travel On The Old Butterfield Stage Line
Garryowen and George Armstrong Custer's Seventh Cavalry
Visit Spectacular Bryce Canyon, Utah
Annual Rocky Mountain Festivals and Events

The Telluride Film Festival is a popular and prestigious annual event that attracts some of the biggest stars in Hollywood to a small Colorado town.
The Rocky Mountain National Rendezvous
The Rocky Mountain National Rendezvous (RMNR) is an annual celebration of life on the pre-1840 American Western frontier. The event is both re-enactment and living history, based on the fur-trade rendezvous that was held in the Rocky Mountains by the early fur trappers.  For detailed information regarding this annual event see website…http://rmnr.org/
Cody Nite Rodeo
Wild West Family Fun in Cody, Wyoming every night June 1st through August 31st 8:00 PM. Come early, meet the clowns & bullfighters, get your photo taken on a live bull or try your hand at riding a mechanical bull.
Living History Program at Nevada City, Montana
The Outdoor Living History Museum in Nevada City, Montana, has one of the largest collections of Old West Artifacts outside the Smithsonian. The museum site  displays a hundred 1863 to early 1900 structures, and about 70 living history interpreters. Living history weekends are held Memorial Day weekend through Labor Day weekend.
Spectacular vistas, scenic highways and historic sites and towns are all part of the Rocky Mountains and the old west. The above mentioned historic sites, national parks and annual events are just a small sample of what awaits you on your next trip to the great and scenic Rocky Mountain region.
(Article copyright 2015 Trips Into History)