The airplane model featured in this article has won more aerobatic contests than any other aircraft in the U.S. Today the plane still remains a powerful competitor. The Pitts Special S1 is one of the most famous airplanes in civilian aircraft history. It has performed at more air shows than any other type of aerobatic aircraft.
The Pitts Special aerobatic planes were designed by Curtiss Pitts and took to the air in 1944. Pitts built a limited number of planes and two models were built from the original model. These were a one-seater called the S-1 and a two-seater called the S-2.
A Rough Beginning Followed by Recognition

When Curtiss Pitts set put to build an airplane, the intention was to build only one for himself.The trouble is, when a airplane you build performs so good, word spreads. The face of aerobatic flying was changed forever when Pitts built his first plane. That plane today is one of the most recognized American built aerobatic airplane.
The first plane built by Pitts which had a home built inverted fuel system was destroyed in a crash. In 1946, Curtiss Pitts received an order for ten of his planes but before they could be delivered the purchaser filed for bankruptcy. At that time only one plane was completed and it was eventually sold to a Miami, Florida firm called World Air Shows.
As it turned out, this sale of only one Pitts Special to World Air Shows would help achieve world wide recognition for this remarkable aircraft. The plane that World Air Shows purchased would be flown by a young aerobatic pilot named Betty Skelton.
Betty Skelton who was later called "The fastest woman on earth", flew the Pitts Special to several competitive wins. Skelton won the National Aerobatics Championship three times. She was the first woman to attempt the "inverted ribbon cut," in which she would fly upside down only ten feet off the ground, slicing a ribbon with her propeller of her Pitts Special. Betty Skelton twice set light-plane altitude records, attaining an atitude of 29,050 feet in a Piper Cub in 1951. Even though the planes engine exploded during flight Skelton achieved an unofficial women's air speed record of 421 mph in a P-51 Mustang.
Later, Betty Skelton worked in advertising and test driving Corvettes. Skelton held the honor of being the first woman to drive a Pace Car at the Daytona 500.
See these additional Trips Into History articles on the links below…
Some of the Best Western U.S. Air Museums
The USS Midway / San Diego's Premiere Attraction
From our Western Trips site see...Wiley Post and His Record Setting Lockheed Vega Airplane
An excellent book to add to your reading list is …Pitts Specials: Curtiss Pitts and his Legendary Biplanes by author Budd Davisson. There are also several books for youngsters regarding Betty Skelton which you may find interesting. One of these is titled, Daredevil: The Daring Life of Betty Skelton by author Meghan McCarthy.
The Pitts Special Specifications
The Pitts Special had a Lycoming 180 HP engine.
Maximum speed was rated at 176 MPH with a range of 315 miles.
Upper wingspan measured 17 ft 4 in. Length 15 ft 5 in and height 6 ft 3 in.
Gross weight was 1,148 lbs. Service ceiling was 22,300 ft.
The Pitts Special Legend
Homebuilt planes were built from the original plans sold by Pitts who later sold more refined technical plans starting in the 1960's. Curtis Pitts left perhaps the biggest mark on aerobatics and air shows with his innovative airplane designs.
The International Council of Air Shows Foundation says this about the Pitts planes…"From the first prototype to the hundreds of Pitts Specials that have performed at air shows over the last half century to the design ideas taken from the Pitts Special and integrated into today's high-performance monoplanes, much of what air show flying is all about today can be traced back to the Pitts Special". All Pitts one and two seat planes designed can be traced directly back to the Pitts Special of 1944.

It's been said that Curtiss Pitts didn't invent aerobatics or small planes. He also didn't invent bi-planes. What Curtiss Pitts achieved was to mold all of these together into what today is the art of modern aerobatics.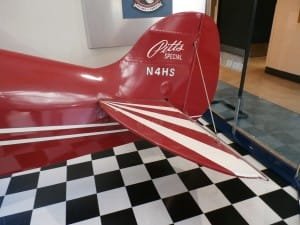 Curtiss Pitts, an aviation pioneer, died at his home in Homestead, Florida in June 2005.
As of this writing, a sample list of several museums around the U.S. where Pitts Specials are on display include…The National Air and Space Museum in Washington D.C….The San Diego Automobile Museum in San Diego, CA…The Pacific Coast Air Museum in Santa Rosa, CA and the Carnegie Museum in Pittsburgh, PA. There are more displays plus you'll likely see a Pitt Special or two when attending your local air show.
Please note that there is also a Betty Skelton collection at the National Air and Space Museum.
Betty Skelton began flying airplanes at the age of twelve years and as mentioned above won many titles in the Pitts Special. After Skelton's retirement from aviation, she joined Chevrolet with their development of the popular and unique fiberglass Corvette. Betty Skelton also set several records behind the wheel of the Chevy Corvette.
(Article and photos copyright 2015 Trips Into History. Betty Skelton Frankman photo in the Public Domain)