In the late 1800's and at the turn of the century there may not have been a more famous couple than Annie Oakley and the skilled sharpshooter Frank Butler. They were partners in marriage as well as partners in show business. They traveled together, performed together and had a marriage that lasted some fifty years. Today, a fifty year marriage between such famous performers is a rarity for sure.
Annie and Frank in Cincinnati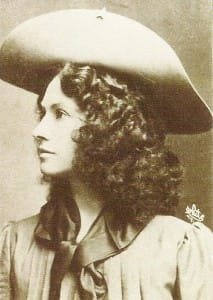 Frank Butler was born in Ireland and came to the United States at the age of thirteen. During his early years in the U.S. Butler developed excellent skills in sharpshooting and put together an act. Who would have believed that his future partner for life would have also been a very skilled sharpshooter? As fate would have it, Frank Butler met a 15 year old Annie Oakley at a shooting competition held in Cincinnati Ohio.
In a way it was love at first shot. Actually, Butler met Annie when he placed a $100 bet with a Cincinnati hotel owner that he could beat any sharpshooter he could produce. The person he produced was Annie Oakley. After missing on his 25th shot, Butler lost the match and the bet. After that he began courting Annie, and they married on June 20, 1882.
The Origins of the Annie Oakley Name
Annie and Frank Butler lived in Cincinnati at first and the story of her stage name, Oakley, which she only adopted when she and Butler began performing together has a few different versions. One is that she is believed to have taken it from the city's neighborhood of Oakley, where they resided. Some other people believe she took on the name because that was the name of the man who had paid her train fare when she was a child. Regardless of the fact that her birth name was Phoebe Ann Moses, the name the American public came to know her as was Annie Oakley
A Touring Duo
Annie and Frank began touring together as an act and joined the Sells Circus which had it's winter home in Ohio. In 1885 they joined Buffalo Bill's Wild West where Annie picked up the nickname of "Little Sure Shot", given to her by Chief Sitting Bull while he was with the Wild West for about four months. When Annie first joined the Wild West there was a big rivalry with another skilled sharpshooter, Lillian Smith, and eventually this rivalry and ill feelings caused both Annie and Frank to quit the Wild West. They resigned from the show at the end of their first trip to England during Queen Victoria's Golden Jubilee.
Smith left the Wild West a few years later and Annie patched up her relationship with Cody and she and Frank rejoined the troupe.
You'll also enjoy our Trips Into History article on Samuel Colt, His Repeating Firearms and a Murder Trial
The Trials and Successes of Samuel Colt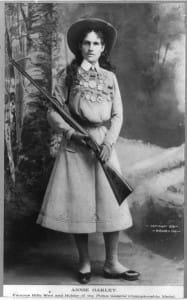 Frank Butler and Annie Oakley remained very close. Frank was part of the act at various times. Annie had the limelight and that was okay with Frank. he understood that they were a team and her success was good for both of them.
Often Frank would stand in as a target so to speak for Annie when she was performing.
One well known episode of this occurred in 1899 when the Wild West was touring Germany. Annie had a particular shooting act where she would shoot the ash off the tip of a volunteers cigar. Annie Oakley would ask for volunteers from the audience and typically there wasn't anyone volunteering to hold the cigar in their mouth while Annie shot the ash off. Frank Butler would then stand up and act as the prop.
In 1899, while performing in Berlin, Annie asked for a volunteer and none other than Kaiser Wilhelm II stood up  and volunteered. Obviously this caused some anxiety among his entourage. Annie, who was known sometimes to take one shot of whiskey before her act, probably wished someone other than the Kaiser himself had stood up. She took aim and fired her trusty Colt 45 and shot the ash clean off the Kaiser's cigar. You couldn't invent this kind of story.
During her and Frank's time performing with the Wild West they traveled all throughout Europe from Spain to the Netherlands  and just about everywhere in between.  Oakley and Butler left the Wild West for good in 1902. Annie then did some acting in a play written specially for her named "The Western Girl".
The Hearst Trouble
Oakley and Butler met their next challenge as a result of William Randolph Hearst and his newspaper chain. Hearst had a reputation for sensationalism. In fact, many people had claimed that Hearst's sensationalizing of the battle ship Maine explosion in the Havana Cuba harbor actually started the Spanish American War. Such was the influence of print media at the turn of the century.
The most popular new stories in the year 1904 seemed to be about cocaine prohibition. Hearst's newspaper published a false story that Oakley had been arrested for stealing to support a cocaine habit. A devastating accusation made on such a popular American as Oakley. As it turned out, the woman who was actually arrested was a Chicago burlesque performer who decided to tell the police her name was "Annie Oakley". The real Annie Oakley spent about six years suing Hearst and other newspapers. Oakley filed some 55 lawsuits and won 54 of them. The story of the time was that although she won and cleared her name, the amount of money she collected from the suits was less than her legal costs.
Other papers that had printed the story written by Hearst quickly reprinted a retraction story when the truth was discovered. Not Hearst. When Annie was finally awarded $20,000 from Hearst (today that would equal about $300,000) he tried everything he could not to pay. Hearst went as far as sending his own private detectives to Oakley's home town in Ohio to try to dig up gossip and dirt. Hearst tried to unearth anything he could smear her with. The detectives  were unable to find anything for Hearst.
The Latter Years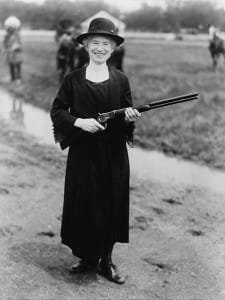 The photo at right is of Annie Oakley in 1922. Annie and Frank spent their later years working for charitable causes and in general helping women.
Womens suffrage would not occur to after World War One. During the war they helped raise a lot of money for the Red Cross. Butler really became the family supporter after Oakley left Buffalo Bill.
While Oakley spent her time suing William Randolph Hearst, Butler became a representative for the Union Metallic Cartridge Company. After Oakley's absolute final Wild West show in 1913, they settled into a comfortable retirement. They spent the winter in North Carolina, taking automobile trips, and hunting.
This couple, Frank and Annie, who remained married for close to fifty years and traveled the world together, meeting heads of state and royalty, both passed away at close to the same time. Annie Oakley died on November 3, 1926 in Greenville Ohio of pernicious anemia. She was 66 years old. Frank Butler, her husband, died eighteen days later. The story was that Frank was so upset over Annie's death that he simply stopped eating.
Garst Museum
Those wanting to learn more about the amazing life on Annie Oakley and Frank Butler need only visit the Garst Museum. The museum is located at 205 North Broadway in Greenville Ohio. It's on the National Register of Historic Places and is operated by the Darke County Historical Society. The Garst Museum is home to the Annie Oakley Center and would make an interesting side trip when you're traveling through the area.
(Photos and images are in public domain)